Green Camp Gallery community recycling project
25. October 2016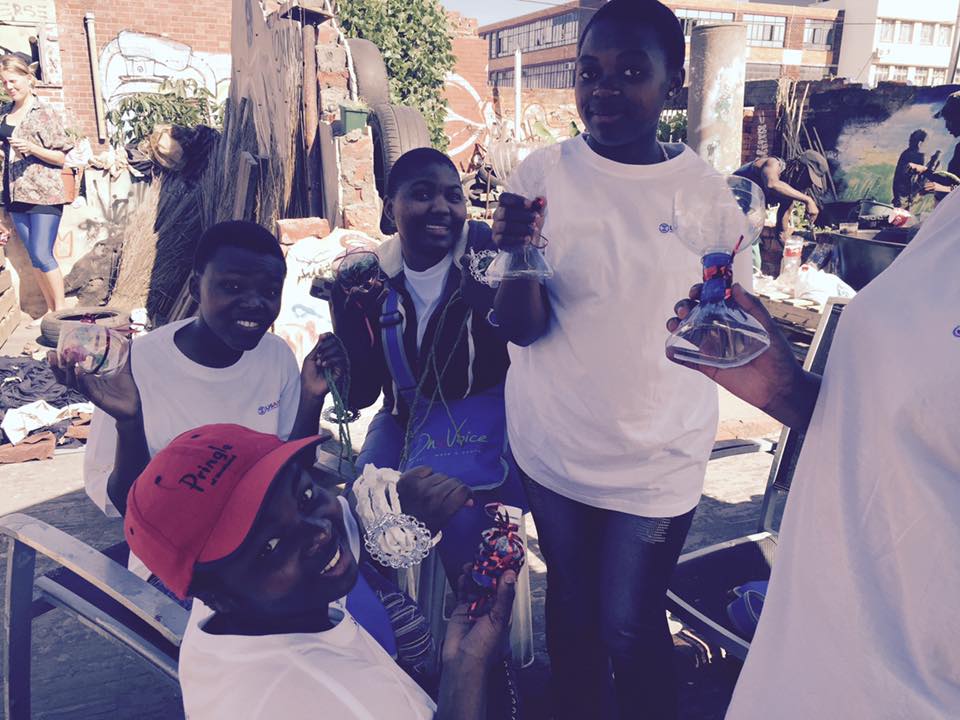 Green Camp Gallery has engaged with many organisations both locally and abroad. Within Durban, these include the tertiary learning institutions of DUT and UKZN, Greenpeace Africa, Citizen Gardens and the newly formed Active Citizen's Movement.
Other exciting collaborations have happened with overseas organisations such as VEGA (Volunteers for Economic Growth Alliance), Goethe Institut, Amnesty International and Slow Food International.
One highlight for them this year was winning a medal for the most creative stand at the exhibition at Sustainable Living Expo organised by eThekwini Municipality this September.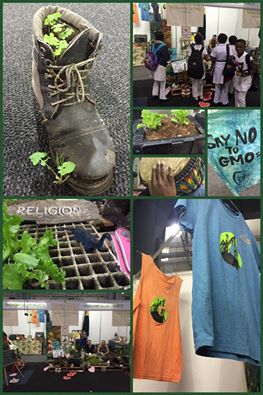 Green Camp Gallery's Sustainable Living Expo stand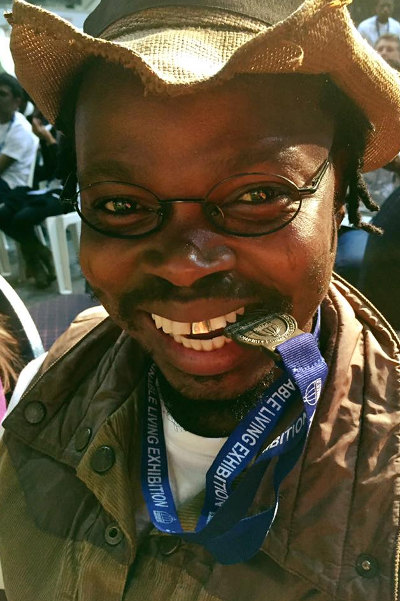 Xolani pleased as punch with their medal
In early October, Green Camp Gallery collaborated with One Voice South Africa, where they hosted and trained a group of young school going entrepreneurs on the art and ingenuity of turning trash into treasure.
Qudsia Mall was actively involved in the project and reports:
"I headed down to Green Camp with my bag of tricks containing plastic wine glasses, a stationery organiser, a belt made from plastic bags and other plastic jewels.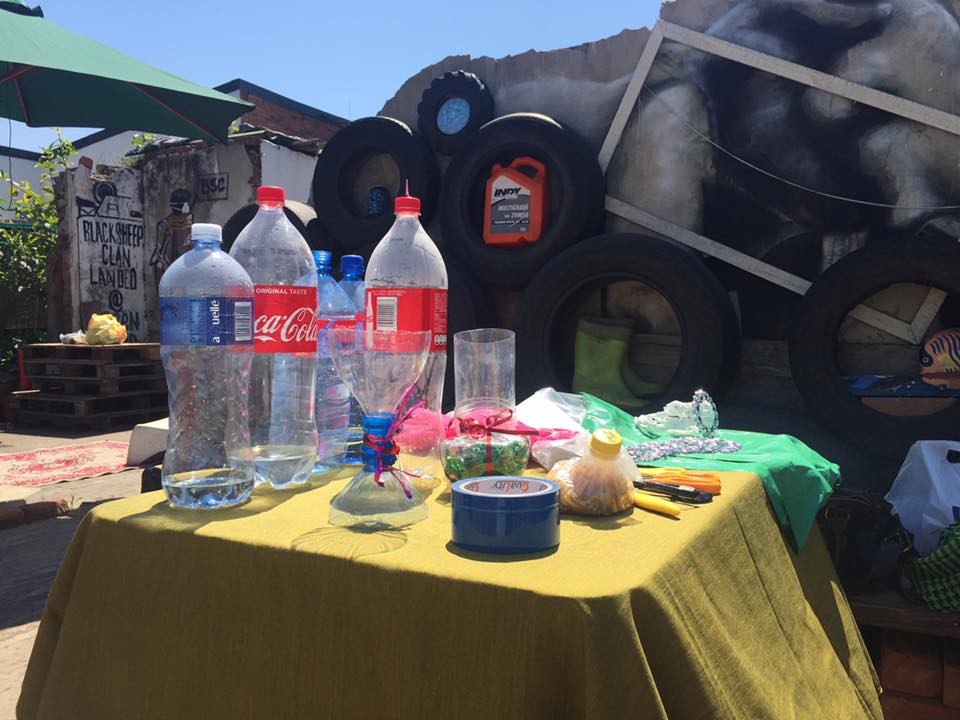 Trashy craft materials
By using common household waste like 2l coke bottles, biscuit boxes and aluminium soft drink cans we showed how to make useful saleable items out of them. Xolani and Åsa had summoned the aid of a few crafty magic makers who were capable of such alchemy, myself included.
Featured project concepts:
Plastic is fantastic- recycling plastic material
Cut and paste Jewellery- recycling cardboard boxes into jewellery
Can you do the "Can-Can" - recycling cool-drink cans into ashtrays and other objects
Tyred of standing? - recycling vehicle tyres into seats with creative covers and artwork
Recycling organic kitchen waste in the garden through composting
We made our way to a local NPO called 'One Voice'. They had hosted a group of students from various schools around Durban and outlying areas. They generously sponsored their transportation, board and lodge and organised skills and development training for them in various forms to get a feel of what the students had in mind through structured business plans produced by the students.
We collected the entourage of young entrepreneurs and walked them down the road to Green Camp where 'One voice' had agreed upon a crafty collaboration.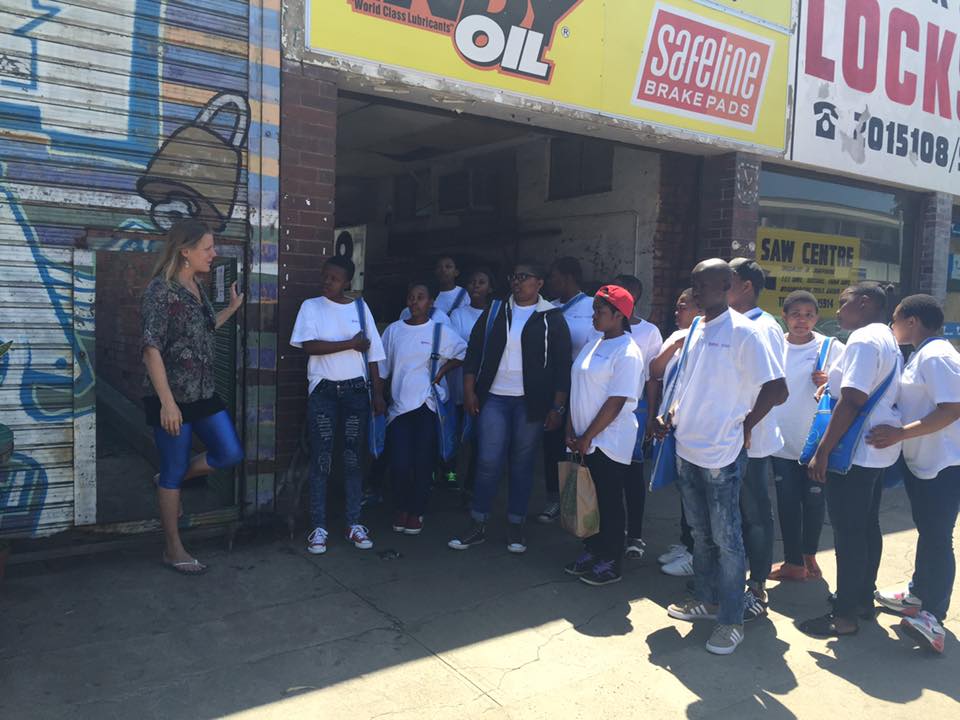 Åsa Nilsson welcoming the group into Green Camp Gallery
The day began with an introduction and tour of Green Camp and an orientation session by the founder Xolani. We then individually introduced ourselves to the students and gave them a brief bio on our lives and how we came to know and love all that is Green Camp.
After the intro and orientation session we held an ice breaker session around the theme of recycled materials where each student had to study the items to match the raw materials to converted recycled version once they've found the suitable partner. This engaged them to consider the uses of the waste materials and what they could possibly become and the activity promoted healthy interaction with each other.
The first phase of our recycling activity was where my Plastic-Fantastic team proceeded to create belts by plaiting strips of plastic bags and weaving them together onto a belt buckle. We also produced a stationery organiser, wine glasses out of 2 l coke bottles, bottle bags, gift boxes from the base rocket part of a 2l coke bottle.
The other groups made jewellery from biscuit boxes, ashtrays out of cool-drink cans, seats from tyres. Xolani gave a talk on composting organic waste in the garden, as well as the role worms play in the garden heap. Students made notes, engaged in productive teams to replicate all the items made in their teams and teach each other in a cross pollination of ideas through groups.
They flourished as they created magic by transforming trash into treasure and walked away with an item that they had produced based on our training and prototypes. The workshop showed them how to experiment with new things and to look at waste as a resource that instead of being tossed could be recycled and sold.
Feeling empowered to transform the world, earn an income and save planet Earth all at the same time is a 'win, win, win' situation thanks to team Green Camp and their partner in this venture 'One Voice'."
All photographs courtesy of Green Camp Gallery.